Watch the skies
So, here we have the BBC striking 'drone fear' into the hearts of ordinary folk again.
The report is based on a paper prepared by Open Briefing regarding the use of UAVs by terrorist organisations to carry out offensive missions against British targets.
As noted from  the report, they have picked out a list of commercially available UAVs which could possibly carry a payload of enough size to cause damage and loss of life to mobile and static targets. These include the DJI Phantom 3 with a whopping payload of 300 grams.
Targets could be such things as a G8 summit or the Prime Ministers car. The Phantom 3 barely achieves the 35mph they have stated, providing there is no wind, rain, fog, so, with a flying time of 28 minutes (Hmm, I only get 18 minutes on a good day out of mine), do you think they could catch his car? Don't you think there are specific anti terrorist measures at the G8 summit? Jamming, they can already do this. And with it's huge payload is it just going to go 'pop'?
Examples given for the ultra scary 'Lone Wolf' scenario are that an employee of the US National Geospatial-Intelligence Agency accidentally crashed his friends DJI Phantom into the White House lawn in 2015. Well, he probably had a pass anyway, but it is scary right?
There's a bit of conjecture with lots of 'reportedly', 'Some reports estimate', 'some allegedly', and so on and so forth. Probably written by a 20 year old for his university course work. Or by someone backing technology firms involved with the immense defence and weapons industries.
It really is a bit much. We seem to try and spread fear and panic for reasons not known. Yes, you could use a UAV in a bad way. Like a Reaper? Well, that is closely guarded tech, but we are talking big UAVs, way beyond the mass market drones the public think about when you mention the word.
So don't panic yet. Your just as likely to find a terrorist using a car, luggage or some other horrific method to carry out their terrible plan. You can read more from this ludicrous report from the link at the bottom of the page.
In reality, for that is where we live, you are more likely to find a youth flying his drone trying to take pictures of the queen in bed with her Sunday papers and morning cuppa!
Ed.
Warning over drones use by terrorists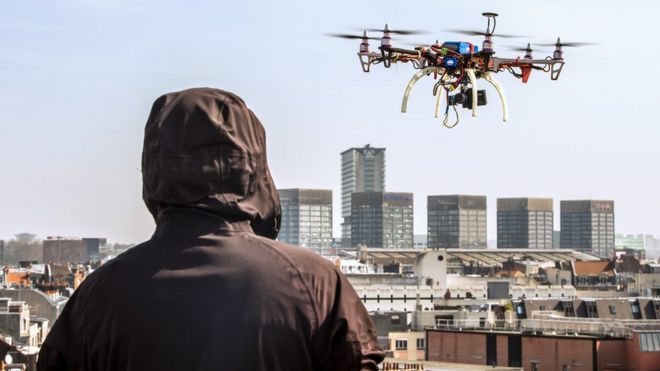 Drones could be used by terrorist groups as "simple, affordable and effective airborne improvised explosive devices," says a report by London-based think tank the Remote Control Project.
The authors suggest manufacturers should program drones with the GPS coordinates of no-fly zones.
The British government should also relax regulations on radio frequency jammers, they add.
In addition, they advise tighter UK licensing regulation.
Currently in the UK, anyone can own and operate for non-commercial purposes a drone that weighs less than 20kg (3st 2lb) – and there are hundreds on the market.
"A range of terrorist, insurgent, criminal, corporate and activist threat groups have already demonstrated the ability to use civilian drones for attacks and intelligence gathering," the report reads.
More from the BBC:
http://www.bbc.co.uk/news/technology-35280402
The original report by Remote Control Group from Open Briefing for Oxford Research Group (Convoluted?)
http://remotecontrolproject.org/wp-content/uploads/2016/01/Hostile-use-of-drones-report_open-briefing.pdf